Prof. Per-Henrik Groop
University of Helsinki & Helsinki University Hospital, Finland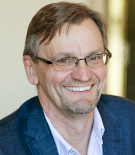 Professor Per-Henrik Groop, MD, DMSc, FRCPE graduated from the University of Helsinki in 1982. It was here where he defended his thesis on 'The relationship between GIP and beta-cell function in man' in 1989. Following post-doctoral studies at Guy's Hospital, University of London, under Professor Giancarlo Viberti, Professor Groop returned to Helsinki as Consultant of Nephrology. He served as Professor of Nephrology (Chair) 2010-2015 and is currently Professor of Internal Medicine (Chair) at the University of Helsinki. He is also Chief Physician at the Department of Nephrology, University of Helsinki and Helsinki University Hospital and Principal Investigator of the Finnish Diabetic Nephropathy (FinnDiane) Study at the Folkhälsan Research Center in Helsinki, Finland. He is Adjunct Professor at the Department of Diabetes, Monash University, Melbourne, Australia.
His research is focused on the dissection of the pathogenesis of diabetic complications with special emphasis on diabetic nephropathy. In order to provide a unique set of clinical resources with high power to identify genes and genetic variants associated with diabetic complications, Professor Groop initiated the large, nationwide FinnDiane Study in 1997. To date, this landmark study comprises 9000 patients with Type 1 Diabetes and their family members recruited via a comprehensive network of 92 hospitals and healthcare centres throughout Finland. His FinnDiane Research Group represents an inter-disciplinary team of 45 scientists, post-graduate students and personnel.
Professor Groop served as Associate Editor of Diabetologia, 2005–2007, and as member of the Advisory Board, 2008–2011. He was Associate Editor of Kidney International and International Diabetes Monitor, 2007–2011. He is currently on the Editorial Board of Diabetes Care. He was Chairman of the EASD Scientist Training Course, 2007–2013, President of the European Diabetic Nephropathy Study Group (EDNSG), 2008–2010, and Honorary Secretary of the EASD 2013-2016. He is since 2011 the chairman of the Signe and Ane Gyllenberg Foundation. He was awarded the prestigious EASD Castelli Pedroli Prize – 24th Camillo Golgi Lecture in 2009, the Novo Nordisk Foundation Lecture in 2012, and the IDF Award for Clinical and Therapeutic Research 2019.
Professor Groop has published more than 440 peer-reviewed original articles in high-impact journals, 35 reviews and book chapters, 50 papers in his native languages Swedish and Finnish as well as more than 700 abstracts presented at major international meetings.