Prof. Paul Valensi
Paris-Nord University, France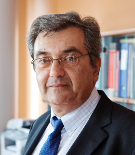 Paul VALENSI is Professor of Nutrition, diabetologist and endocrinologist.
He served as Head of the department of Endocrinology-Diabetology-Nutrition of Jean Verdier Hospital (Bondy), Paris-Nord University, France.
He served as Chairman of Neurodiab EASD Study Group (2002-2005), Chairman of the French Study Group on Heart and diabetes (2002-2005).
He is President of the French Group on the prevention of diabetes, member of the Executive Committee of Diabetes&Cardiovascular disease EASD Study Group.
He co-authored French guidelines: "Evaluation of coronary risk and silent myocardial ischemia in patients with diabetes", "Care of the hyperglycaemic patient during acute coronary syndrome", "Sleep apnea syndrome in diabetes"; and the European "IMAGE guidelines on the prevention of type 2 diabetes", the "Toronto consensus on diabetic neuropathy" (co-Chair), the ESC/EASD Guidelines on "Diabetes, pre-diabetes, and cardiovascular diseases" (2013 and 2019).
His main research topics are macrovascular complications of diabetes and obesity, hypertension, neuropathic disorders in diabetes and obesity, and prevention of diabetes and its complications.
He is co-author of 360 papers, about 40 chapters in scientific books, and Editor of books: "Heart and diabetes" (Frison-Roche, 1999, 470 pages), "All in One. Diabetes and the Heart" (Merck Santé 2004).