Prof. Doina Catrinoiu
"Ovidius" University, Constanta, Romania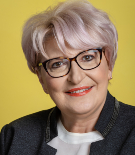 Doina Catrinoiu, MD, PhD  is Professor of  Diabetes, Nutrition and Metabolic Diseases, at "Ovidius" University, Constanta, Romania, senior specialist in Diabetes, Nutrition and Metabolic Diseases. Currently, she is the head of the Internal Medicine Clinic Department within the Emergency County Clinical Hospital, Constanta. She was Research Director in the same hospital and has a Master's degree in Public Health Management.
Her scientific work has concentrated on diabetes since 1994.
She is part of several, national and international professional organizations, Executive committee member of Diabetes and Cardiovascular Disease Study Group, Romanian Society of Diabetes, Nutrition and Metabolic Disease, European Association for the Study of Diabetes (EASD), Romanian Association of Reno-Metabolic Studies, Romanian Society of Obesity, Romanian Federation of Diabetes and Honorary President of Association of Children and Adolescent with Diabetes "Sweet Land". She is part of the editorial board and reviewer for several medical journals.
Prof. Catrinoiu published several chapters in Romanian and international books and and a series of articles in prestigious national and international publications. She has participated in many symposia, meeting and congresses.
She deals with the training of students from the Faculty of Medicine and residents in the specialty of Diabetes, Nutrition and Metabolic Diseases, and also in training programs for young specialists.